A few weeks ago, I encountered something truly eye-opening.
As part of a business conference we were both speakers at, I met George Ross, long term Senior Counsel and Executive Vice President for Donald Trump, who was there to present his new book "Trump-Style Negotiation: Powerful Strategies and Tactics for Mastering Every Deal".
It's hard to overcome preconceived notions of what an experienced, seasoned man like him must be like. But in fact, George Ross turned out to be exactly the opposite of what one might expect the 91-year-old right-hand man of Trump to be, a very humorous, humble and chatty man.
He shared that he had nothing when he started out and it was his wife who put him through law school. "I am still paying her back until this day", he said with a cheeky but sparkling smile.
Whatever you might think of the current US president, I was intrigued because there is definitely something to learn from people with the kind of experience you would have gathered as his lawyer (or can you think of a more challenging position, any lawyer could have? :D).
Any negotiation strategy, 'good' or 'bad', is an important strategy for us to know, because it will either be something we want to apply or, it will be something we need to understand in order to make sure others don't use it against us.
"She was too good"
"Women are the better negotiators", he declared right at the beginning.
For the rest of my life, I will never forget the noise of probably the loudest cheer I've ever heard, which then turned into pin-drop-silence with the story that followed.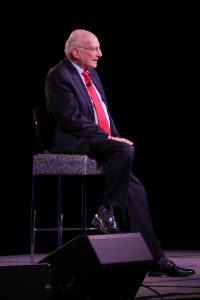 "One day I was negotiating with a lawyer, and she was good, in fact she was so good that I realized I was never going to get a good deal with her on the other side. But then I noticed how she started trembling a little whenever I raised my voice. So, I began to do that more often. And as I got louder and louder, there came a point when she broke down. She started to cry. I said to her client 'how do you expect her to represent you? She starts crying!' They brought in a guy and I got a much better deal than I would have gotten with her. I was young, eager and would have done anything to get a great deal.

Then the same thing happened again, another woman, very bright. I thought 'okay, I need to get rid of her and I started raising my voice. The moment I started, she pulled me aside and said straight to my face: "I know what you are trying to do and if you keep doing that, I will cut off your nuts in front of your client". Imagine how smooth the negotiation went after that. I had learned my lesson."
This story, as shocking as it was when he told it, is a refreshingly open account of the unspoken realities of the power play that goes on in conference rooms (gender-based or not).
Are you ready for this?
While George might have learned his lesson, I am so grateful that he is old enough to no longer care but openly share his awful behavior as a young lawyer because let's face it: this happens ALL THE TIME.
The question is, how should young lawyers deal with encounters like this?
Much has been written about finding the best balance between feminine and masculine behavior (i.e. too feminine and you don't get taken seriously, too masculine as a woman and you are a disliked bitch/pushover). There is no clear answer on which path you should go. I believe it depends on the kind of personality you are. Feminine or masculine traits are generally associated with being female or male, but only to an extent. Women too have masculine traits, or develop them in the course of their professional life. Men too have feminine traits.
Competitive behavior, the game of one-upping each other, is considered to be more of a masculine trait. Women are often raised to be more consensus-oriented and don't particularly enjoy power play as much. While this is the stereotype, it surely is far from true for many men and women, with men facing the same challenges women do and vice versa.
While no style, feminine or masculine, is right or wrong, I believe that in order to succeed, we always need to learn the game that is being played by the majority around us. If you negotiate with a senior male lawyer, you are probably in an environment that is used to playing the one-up game. So, you need to become good at it. It's a bit like a foreign language. If you don't know how to speak the language of the country, it will be much harder to connect with the people and get around. Learn it, and you are much more likely to achieve your goals.
How do you do that?
First, don't shy away from it! Seek out stressful environments purposefully. Challenge yourself. Go to the very meetings and clients you fear or you know will be hard. Let your boss take you to such encounters and observe, to begin with. Put yourself in those shoes. Take courses on negotiation to learn all the tricks. Do role plays with people who push and challenge you and let them make you uncomfortable.
The more you get comfortable with any encounter that is trying to intimidate you, the lesser they can succeed in doing it.
It's all about being comfortable with the game that is being played around you. And not taking it too personally.
This means getting in control of your fears and insecurities. This means understanding the 'rules of the game' and being able to tune it down or up as needed to maintain the other side's respect. This means a lot of personal growth and self-reflection.
I wish I didn't have to say any of this, I wish work environments were based on feminine and masculine rules equally. However, until we get there, we need to learn how to get badass at the game being played by the majority.
Many women (and men who are uncomfortable with this kind of behavior) have become very good at this, and I encourage you to look for them and learn from them whenever you can. The best thing you can have is a female role model to keep you inspired.
The good news?
I want you to get ready NOW for the eventual encounter where your counterparts will raise their voice over yours in a hope to get rid of you. They often do it because they know your skills can mean bad news for them. So when it does happen, congratulations, this is a huge compliment! It shows you that the opposite side needs something more than just their skills to defeat you.
Welcome to major league!
Negotiation is a game. And this is good news. Because it means you can learn the rules and beat people with more experience in it (and of course I mean that in a collaborative, win-win way 😉)!
Thank you, George, for giving me the very mixed feelings I came out with after your presentation, this story has been an eye-opener. And I hope it will help carry an important message to women and men way beyond myself.
Yours,
Claudia
PS: Has this happened to you before? In what situation? Did you do something about it? Email me at claudia@necademy.com. I  would love to hear about your experiences!
PPS: Are you a young female and want to learn how to better stand your ground in encounters like this? Apply now for one of the few seats of our annual Women Leadership and Negotiation Summer Academy and spend a week living and learning with me and top women from around the world at our castle in Austria. Check it out here!