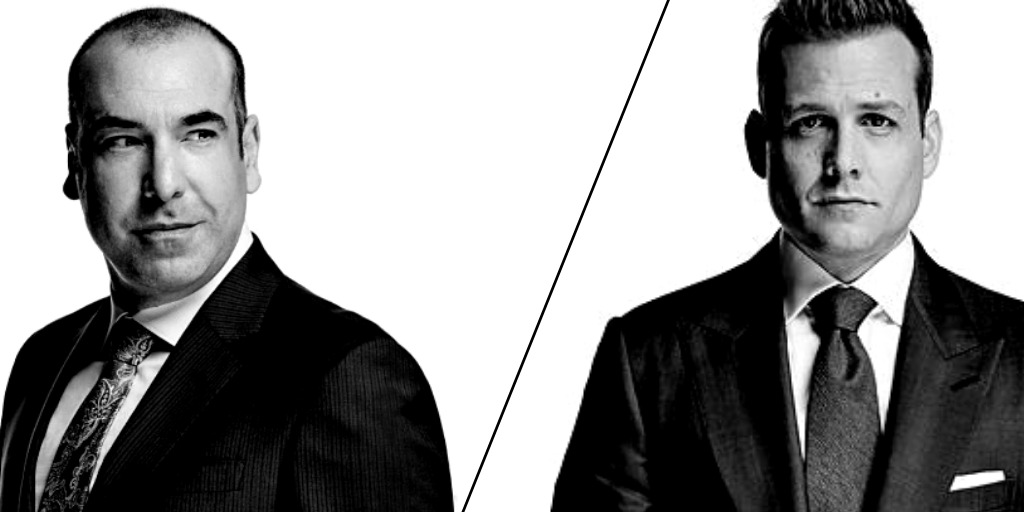 by Pratik Bakshi
Many young lawyers are fans of the TV Series 'Suits'. But this is also a must-read for all other law students and young lawyers who wish to know how to stand out among the hundreds, or rather thousands of other lawyers.
For those unfamiliar with the TV series, both Specter and Litt join a New York City-based law firm Pearson Hardman as associates and rise their way up to be name partners. While Litt makes the name partner eventually, he is never seen or believed to be as good as Specter. Litt has a deeper clientele and produces the highest billables in the firm, far more than Specter. He is the best finance-lawyer in the city and is loyal to the firm as much as Specter, if not more. However, Specter is favoured both in the firm and by the audience, almost always. Why is it that Specter is favoured over Litt, when Litt clearly makes more money for the firm and is better with the law as compared to Specter? Where does he go wrong or what does Specter do right?
While the TV series is fictional, some of its success factors closely relate to how law, lawyers and law firms work in the real world. Knowing, understanding and being able to implement law can make you a good lawyer, but it is not enough to make you a great lawyer. Just being good with the law won't do the job.
So, what sets them apart?
Let's call it the SPECTER-Theorem
S: Smartness
P: Psychological Reading
E: Emotional Intelligence
C: Communication & Negotiation Skills
T: Thinking on your feet
E: Enterprising
R: Relationship
Smartness: While the legal profession, at its outset, seems all about how industrious and laborious you are, eventually, it is mostly about how smartly you get the work done. To meet client deadlines without compromising on the quality of work and the quality of your life, it's very important to work smart. Smart lawyers cater to what truly drives their clients, and manage their clients' expectations along with their work in a way that brings more satisfaction to both sides.
Psychological Reading: Any successful lawyer will agree that lawyers must be very good at psychology. However, most law schools ignore this science which can go a far way in making a career for a lawyer. Lawyers spend much of their time communicating with others, be it an interview, a counseling session, a negotiation or in a courtroom.
Harvey Specter uses his insights into human psychology to always be two steps ahead. He knows what the other side is thinking, what they are saying and what is driving them. While most of the lawyers wish that they could read others' mind, Harvey shows how to leverage his ability of psychological reading to being the towns best closer and beyond.
Emotional Intelligence: Emotional intelligence or EQ does can be described as the ability to recognise and understand emotions, in yourself and others. It is essential to use your EQ while having a conversation and before making an important decision. Improving your EQ can make you more effective with your communication, in your negotiations, reduce your stress, make you a better leader and more enterprising, create resilience and avoid conflict. Ruth Hudson, an Australian lawyer provides great insight on the importance of EQ for lawyers in this article.
Specter is often told to be cold-hearted and emotionless – which is not the case! You will see the emotional side of him when it matters. And more importantly: he processes emotional awareness and he has control of his emotions – which does not let him affect the case he is dealing with and keep the clients' priorities in the front row. That's what makes him a great lawyer.
Communication & Negotiation Skills: Probably the most critical differentiator that can help a lawyer stand out is the way she communicates. While Litt kicks ass in front of the judge, it is always Harvey who gets the deal done without taking his client through the trouble and expenses of a court battle. Clients want solutions. Gone are the days when a lawyer was glorified for the number of cases she had won. This is the day when the success of a lawyer is measured on the matrix of client satisfaction. While communication can help in building trust with the client and understanding her underlying interests, it is only through negotiation, you can actually get those for your client.
Thinking on your feet: Did you know that your brain has two parts – the fast brain (cognitive ease) and slow brain (cognitive strain). When you are walking or jogging down a road, the fast brain does the job, because you do not really have to focus on having to take each step. However, when you are solving a math problem, the slow brain is the one working because you need to put much more thought and focus on solving the problem and it does not come instinctively. Similarly, for lawyers, the right kind of training and experience can help them think on their feet. They can ace cross-examinations as the questions would almost come naturally to them, and similarly, they can deal with the questions of the judges, clients, and the opposite counsel almost instinctively. As a lawyer, you cannot afford to fumble on any question – you almost lose half your case right there.
Enterprising: The legal profession today is more competitive than ever. Clients today have many more options to choose from than they had in the past. Therefore, you must be on top of the business and a market leader. When you are fresh out of law school and join a law firm, you are probably doing 100% legal work, but as you go up the ladder and become a partner, the proportion of legal work that you do comes down and is replaced by doing business and other enterprising things. You need to create your brand or that for your firm, spend time getting new clients and retain the old ones, etc. The earlier you learn to be more enterprising, the better. You will often see many 40 or 50-year olds in law firms in the position of a Senior or Managing Associate, while you will find partners in their early 30s. This is what makes the difference, how enterprising a lawyer is.
Rapport Building: The art to build relationships in the legal profession plays a great deal in making your career. Most people in the world will need a lawyer a few times in their lifetime. However, at the same time, many lawyers are competing with you. Why should someone needing a lawyer, choose you over others? The choice for him becomes much easier if you two enjoy a cordial relationship. Every new person you meet is a prospective client. Therefore, you need to be great at striking conversation and taking the conversation beyond your first meeting. Retaining clients is as important because if you have maintained a good relationship and you have their trust, they will come back to you even if you have lost their case once.
Becoming Harvey
Most lawyers in the world, if they are lucky and after enough exposure and practice, will become Louis. Driven, smart, excelling at the law, but not comparing to those who really stand out.
Only very very few, maybe 1% of the lawyers that we meet, have mastered to become Harvey. They have mastered to excel at the personal skills needed to leverage their legal skills into a sphere that allows them to be not only effective with the law but also unbeatable in each of their interactions. 
PS: Want to take your career to the next level? Check out our free Introduction to Negotiation course and sign up for the next Master Negotiator Course on www.necademy.com.