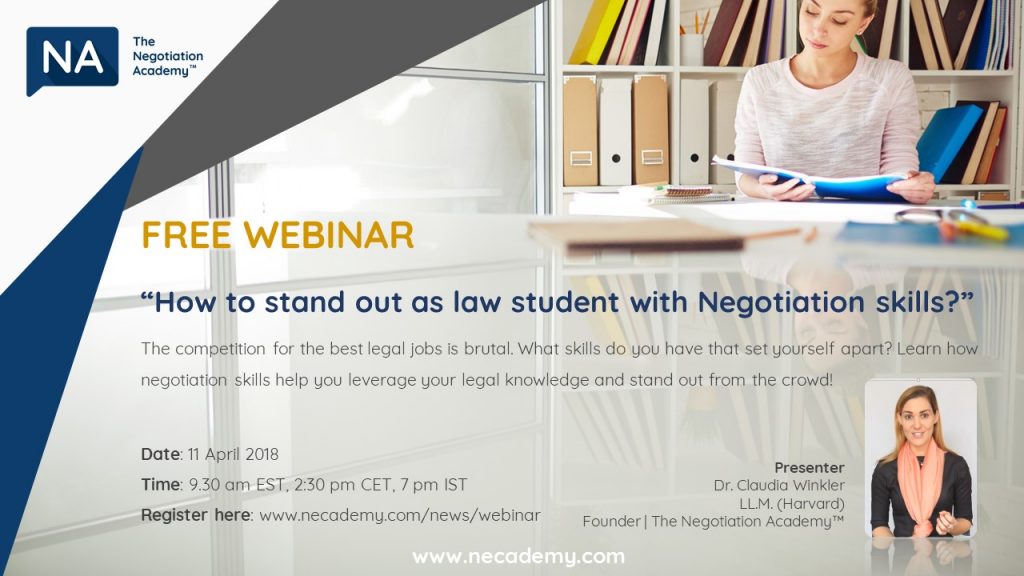 "How to stand out as law student with Negotiation skills?"
The competition for the best legal jobs is brutal. Top legal skills have become a mere prerequisite to land any quality job. For top achievers, much more is needed to embark on a successful legal career, inside, and especially outside the traditional law firm path.
In this webinar, we will share with you why law schools in the US have been teaching negotiation skills to their students for decades and how these skills can change your success chances as a lawyer forever. We will also introduce, how the online environment of the Master Negotiator Course can help you develop and practice the relevant skills that guarantee your head start into a top legal career and answer all questions you may have.
Learn how negotiation skills help you leverage your legal knowledge and stand out from the crowd!
Date: 11 April 2018
Time: 9.30 am EST, 2:30 pm CET, 7 pm IST
---
The Trainer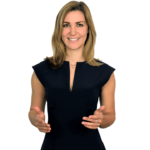 Claudia Winkler is an international Negotiation Trainer, the founder of The Negotiation Academy™, and the Director of the IBA-VIAC CDRC Vienna Mediation and Negotiation Competition. Claudia received her Master's and Doctor's degree in European and International Law from the University of Linz and her LL.M. from Harvard Law School. Her professional experience reaches from law to government, non-for profit, start-up, university and international institutions. She has worked as the ADR development coordinator with the New York International Arbitration Centre during her time as a Fulbright scholar and is a licensed Mediator in New York. As a trainer, Claudia has worked with law firms, businesses, associations and universities in the United States, Europe, Africa, Asia and Australia.